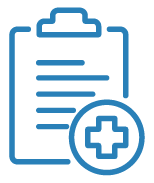 Eligibility Criteria
With IMLC in place, you can become a licensed physician in more than other states in days as compared to months.
Hold a full, unrestricted medical license in any of the Compact member states
Have graduated from an accredited medical school listed in the International Medical Education Directory
Have passed each component of USMLE, COMLEX-USA, or equivalent examinations within 3 attempts
Hold a current specialty certification by ABMS or AOABOS board
Have completed ACGME/AOA accredited graduate medical education
Never had a controlled substance license/permit suspended or revoked by a state or DEA
Never held a license subjected to discipline (excluding action related to non-payment of fees related to license)
Never been convicted, received adjudication, deferred adjudication, community supervision, or deferred disposition
Not be under any active investigation
How do we help
Not all states are part of the IMLC. Currently 28 states are part of the compact, you are eligible for IMLC in case you're holding a primary license in one of the participating states. Participating states are growing in number for IMLC.